In May of 2015, the San Jacinto River Authority (SJRA) completed a comprehensive Watershed Protection Plan (WPP) for the Lake Conroe watershed. The WPP focuses on monitoring the water quality in Lake Conroe, reducing problems from future growth and other activities in the watershed, as well as educating the public about water quality and how they can improve the already excellent water quality in Lake Conroe.
Lake Conroe is currently one of the highest quality waterbodies in the greater Houston area. In fact, Lake Conroe meets all Clean Water Act standards for contact recreation, public water supply, and aquatic habitat. In order to maintain those high standards and above average designations, our community actions and behaviors need to be closely examined.
Aquatic Invasive Species Management
Through partnering with local, state, and federal organizations, the Lake Conroe Division manages invasive aquatic plants, zebra mussels, and other invasive species on the reservoir. With various participating organizations, the Division has developed a program to establish native vegetation across the reservoir and sustain a suitable fisheries habitat.
Native Vegetation or Plant Program
SJRA, Texas Parks and Wildlife (TPWD) and the Seven Coves Bass Club have been managing invasive and native aquatic plants in Lake Conroe for decades. The SJRA and TPWD go through a yearly process of gathering, producing, and planting natives throughout the shorelines of Lake Conroe.
In late summer and very early spring, SJRA staff will collect different species of native plants throughout the reservoir for propagation. After collection, plants are brought back to the Lake Conroe dam to an aquatic native plant nursery. At the nursery, SJRA staff will cut and plant pieces of plant stock or root for growth.
The SJRA nursery is made up of eight lined wooden troughs that hold water to grow the native plants on site. Most of the plants will grow a root system in late summer and then go dormant for the winter season to where they will be ready to sprout out of the soil in early spring. All of the plants are tended to by SJRA staff and is available to see to the public if a tour is set up.
In addition to the plants that are grown on site, the SJRA will purchase additional plants for local growers if needed to satisfy the planting plan for that season. Once all plants have been grown or purchased, the SJRA staff and TPWD will go out to pre-planned locations along the shoreline and plant.
The native aquatic plants are very beneficial to Lake Conroe as a habitat for fish habitat, invertebrate habitat, stream bank erosion and to improve water quality. The SJRA and partners will continue to do our part to protect the best water in Texas.
Pictures and information of each plant that we plant
Pictures and videos of the plantings and nursery
Water Quality
The Lake Conroe Division inspects and permits all on-site sewage facilities after new construction, investigates OSSF complaints, and handles enforcement related to those facilities. The Division also operates a water quality sampling program and has implemented a watershed protection plan for Lake Conroe.
Texas Stream Team
The Texas Stream Team, formerly known as Texas Watch, is a statewide environmental education and volunteer-based water quality monitoring program.  The Texas Stream Team is specifically housed within the Meadows Center's Watershed Services team.
Through Texas Stream Team, citizen scientists are trained to collect and submit surface water and environmental quality data that can then be used to promote and protect the 191,000 miles of Texas waterways.  The Texas Stream Team brings together community members, students, educators, academic researchers, environmental professionals, and both public and private sector partners to conduct scientific research and promote environmental stewardship.
The Texas Stream Team's Mission is to facilitate environmental stewardship by empowering a statewide network of concerned citizen scientists, partners, and institutions in a collaborative effort to promote a healthy and safe environment through environmental education, data collection, and community action.
If you are interested in Texas Stream Team volunteer opportunities please contact Shane Simpson at 936-588-1111 or lakeconroe@sjra.net.
Stormwater Inlet Marking Program (SwIM)
As part of SJRA's WPP, the Stormwater Inlet Marking (SwIM) Program was implemented.  The SwIM program has been used all across the nation to help educate the public about the effects of stormwater runoff from neighborhood streets and lawns on water quality.
There are a number of things that can be done do to prevent stormwater from carrying pollution to the water body.  For example:  proper removal of pet waste, trash pick-up, suitable chemical disposal, and accurate fertilizer application.  The SwIM program is designed to educate the public on how to keep Lake Conroe's water quality great by serving as a reminder that what enters the stormwater inlet goes directly into Lake Conroe without being filtered or treated.
In addition to the educational aspect, the program gives the local community a chance to get involved by physically applying medallions to the top of stormwater inlets in neighborhoods that are in the Lake Conroe watershed.  As shown in the accompanying graphic, the medallions are made of aluminum with a green and blue color scheme and are four inches in circumference.
If you or an organization you are associated with would like to participate in the SwIM Program, please print out the appropriate forms and instructional documents, complete the form, and submit to the Lake Conroe Division.  Each group must fill out an Application Form and Liability Waiver.  Once SJRA staff has the opportunity to review and approve the completed application(s), you will be contacted to discuss acquiring an approved neighborhood to conduct the SwIM Program in.
Once a neighborhood or project area is chosen, each group will be given a volunteer kit with instructions.  Each kit contains everything the volunteers will need to complete medallion installation in their project area.
The kit contains the following:
Wire Brush
Adhesive
Metal Medallions
Safety Vests
Safety Cones
Safety Glasses
Gloves
5 Gallon Bucket
Door Hangers
Any further SwIM projects will require acquiring additional funding for materials.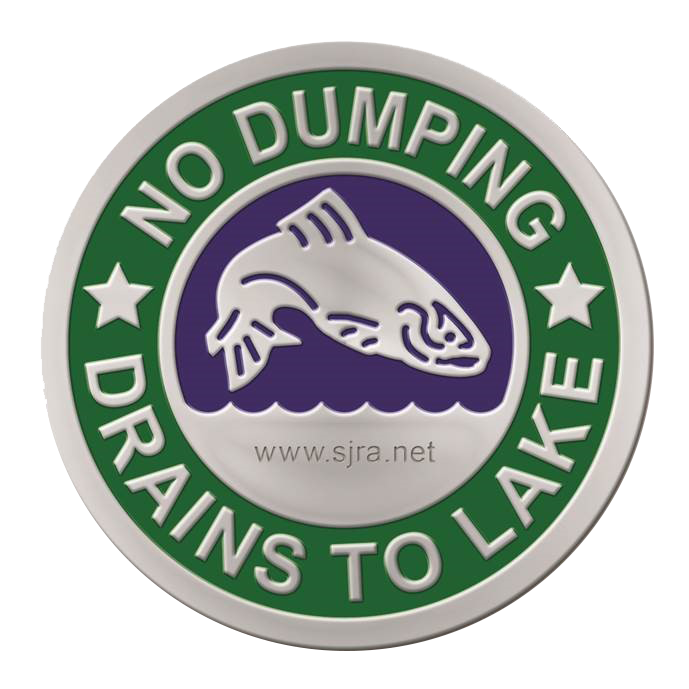 Interactive ESRI online map