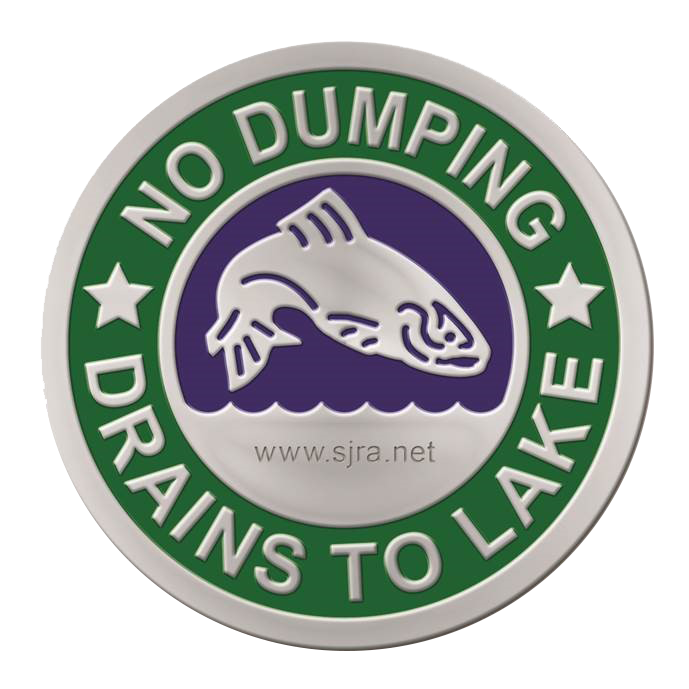 In May of 2015, SJRA completed a comprehensive Watershed Protection Plan (WPP) for the Lake Conroe watershed.  The WPP focuses on monitoring the water quality in Lake Conroe, reducing problems from future growth and other activities in the watershed, as well as educating the public about water quality and how they can improve the already excellent water quality in Lake Conroe.
Lake Conroe is currently one of the highest quality waterbodies in the greater Houston area.  In fact, Lake Conroe meets all Clean Water Act standards for contact recreation, public water supply, and aquatic habitat.  In order to maintain those high standards and above average designations, our community actions and behaviors need to be closely examined.
As a result of the above and as part of SJRA's WPP, the Stormwater Inlet Marking (SwIM) Program was implemented.  The SwIM program has been used all across the nation to help educate the public about the effects of stormwater runoff from neighborhood streets and lawns on water quality.
There are a number of things that can be done do to prevent stormwater from carrying pollution to the water body.  For example:  proper removal of pet waste, trash pick-up, suitable chemical disposal, and accurate fertilizer application.  The SwIM program is designed to educate the public on how to keep Lake Conroe's water quality great by serving as a reminder that what enters the stormwater inlet goes directly into Lake Conroe without being filtered or treated.
In addition to the educational aspect, the program gives the local community a chance to get involved by physically applying medallions to the top of stormwater inlets in neighborhoods that are in the Lake Conroe watershed.  As shown in the accompanying graphic, the medallions are made of aluminum with a green and blue color scheme and are four inches in circumference.
If you or an organization you are associated with would like to participate in the SwIM Program, please print out the appropriate forms and instructional documents, complete the form, and submit to the Lake Conroe Division.  Each group must fill out an Application Form and Liability Waiver.  Once SJRA staff has the opportunity to review and approve the completed application(s), you will be contacted to discuss acquiring an approved neighborhood to conduct the SwIM Program in.
Once a neighborhood or project area is chosen, each group will be given a volunteer kit with instructions.  Each kit contains everything the volunteers will need to complete medallion installation in their project area.
The kit contains the following:
Wire Brush
Adhesive
Metal Medallions
Safety Vests
Safety Cones
Safety Glasses
Gloves
5 Gallon Bucket
Door Hangers
Any further SwIM projects will require acquiring additional funding for materials.