Rate Adjustment Tied to Groundwater Regulation Uncertainty
By:  Heather Ramsey Cook, Director of Communications and Public Affairs
Created in 1937 by a special act of the Texas Legislature, the San Jacinto River Authority (SJRA) is one of a dozen major river authorities in the state.  Covering all or part of seven counties, our mission is to develop, conserve, and protect the water resources of the San Jacinto River basin. Like other river authorities, our primary purpose is to implement long-term, regional projects related to water supply and wastewater treatment. SJRA receives no money from the state, nor does it collect any type of taxes.
From a small agency that primarily helped farmers construct stock tanks for water and soil conservation, SJRA has grown to an organization of around 170 employees, spread across six divisions responsible for a number of activities including municipal and industrial water supply, wastewater treatment, water quality management, and flood resiliency.  We accomplish our mission through five operational divisions located throughout the region at Lake Conroe, The Woodlands, and Highlands/East Harris County.
The Groundwater Reduction Plan (GRP) Division at Lake Conroe was commissioned in 2015 as a regional solution to Montgomery County's growing groundwater problem. Rapid population growth and the resulting increase in water demand overwhelmed the county's underground aquifers. Because of the growing demand along with groundwater reduction requirements mandated by the Lone Star Groundwater Conservation District (LSGCD), SJRA entered into an agreement in 2010 to provide treated surface water from Lake Conroe as a cost-effective and reliable solution for decreasing groundwater withdrawals and satisfying regulatory mandates. More than 130 different water utilities agreed and joined the plan, representing 80 percent of the water use in Montgomery County. With this commitment, the GRP truly became a countywide, collaborative solution to the groundwater problem.  Starting in September 2015, the GRP delivered 17.63 million gallons per day (MGD, 2016 annual average) treated surface water to a number of cities and utilities within Montgomery County.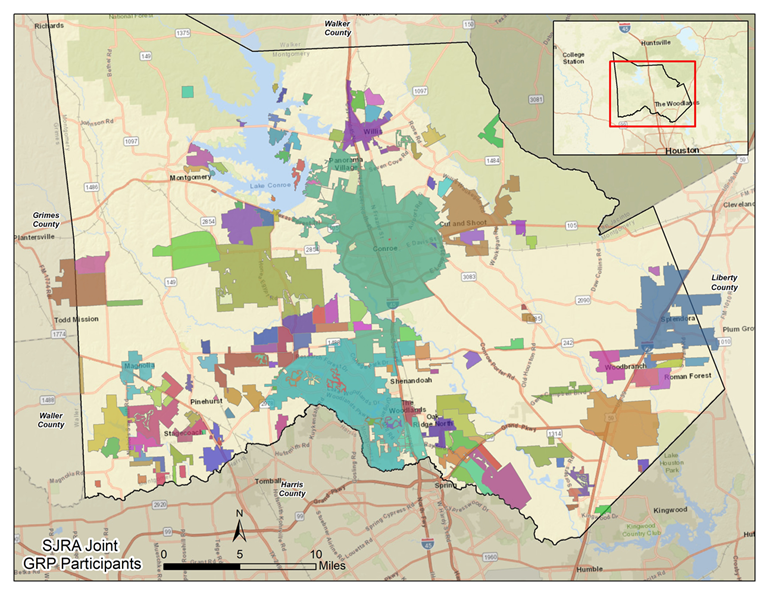 SJRA Joint GRP Participants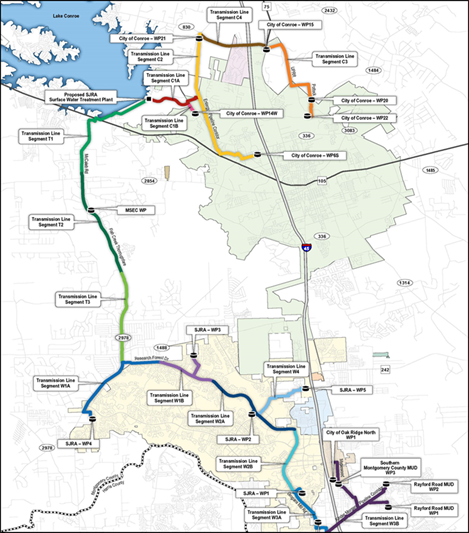 SJRA's Joint GRP Participant Map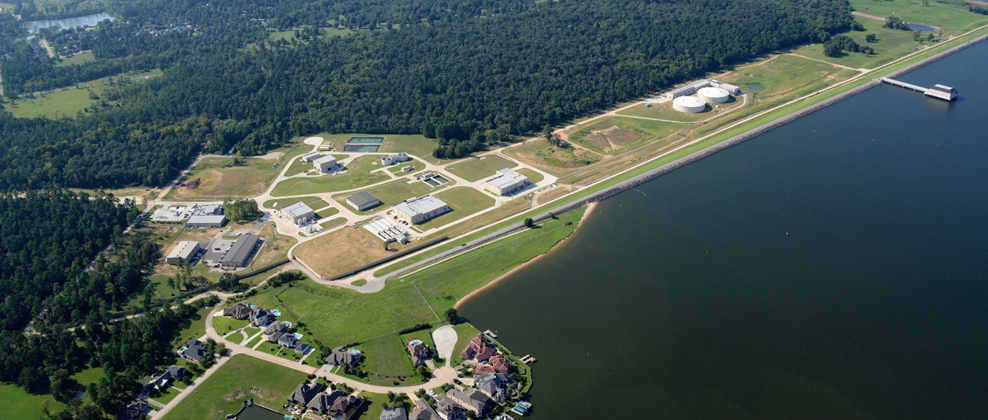 GRP Surface Water Treatment Plant
Changes in Groundwater Regulations:  Adding Uncertainty
Since the commencement of SJRA's surface water treatment facility, groundwater regulations in Montgomery County have changed.  A local district court found that LSGCD's groundwater reduction regulations went beyond their legal authority in how they regulated groundwater withdrawals.  This does not mean that they cannot or should not regulate the withdrawal of groundwater.   The recent judgment did not say conservation isn't necessary, it simply said LSGCD did not have the legal authority to enforce their current conservation rules.   The newly elected LSGCD board of directors subsequently struck all conservation rules from their regulatory plan, permits, and other District materials and submitted a management plan without conservation rules for Montgomery County to the Texas Water Development Board (TWDB) for approval.  The TWDB rejected LSGCD's newly proposed groundwater management plan for Montgomery County as incomplete and deficient and instructed it to utilize management goals approved by groundwater conservation districts in surrounding counties.  LSGCD has 180 days to submit a new plan.
What's in the water rate?
All GRP Participants—cities, individual water utilities, and other groundwater users—entered into GRP contracts to satisfy the LSGCD rules and therefore equitably share in the cost of their water usage.  The amount is calculated to cover the cost of implementing, operating, and maintaining the GRP.  Treated surface water costs more than groundwater because of the efforts to pump the water from Lake Conroe, aggressively filter it, and transport it to users along a 55-mile transmission line.  Each year water rates are based on the local conservation rules along with the upcoming year's estimated revenue requirements divided by the estimated water demand by all Participants resulting in a rate per thousand gallons of water usage.
Path Forward:  Responsible Management of Alternative Water Supplies
The uncertainty of groundwater regulations has led SJRA to operate the plant at the lowest, sustainable production rate, 12 MGD, in order to save money and keep rates as low as possible while the legal issues between LSGCD and the State of Texas are resolved.  Although LSGCD's groundwater reduction regulations have been voided, SJRA's surface water treatment plant will remain a valuable source of alternative water supplies for Montgomery County.  SJRA and other Participants are bound contractually to the GRP.
GRP Rate Adjustment for Fiscal Year 2020
Effective September 1, 2019, SJRA will adjust its fees for joint GRP Participants to $2.73 per 1,000 gallons for groundwater and $3.15 per 1,000 gallons for surface water.  Currently SJRA charges its Participants $2.64 per 1,000 gallons for groundwater and $2.83 per 1,000 gallons for surface water.  These modest increases are the first in two years and are still the lowest in the entire region when compared to other local surface water utilities.
The rate adjustment applies to cities, municipal utility districts, and independently owned utilities participating in the GRP program.  Individual retail water bills will vary. Retail water providers, not SJRA, decide how to pass the fee through to their retail customers.  If a retail utility is billing more than the rates adopted by the GRP, customers should ask their retail utility to explain the markup.  For more information on household bills, individuals are urged to contact their retail provider.  To review the GRP's entire budget presentation, please visit the GRP's website at https://www.sjra.net/grp/.
Rate comparison to West Harris County Water Authority and North Harris County Water Authority Rates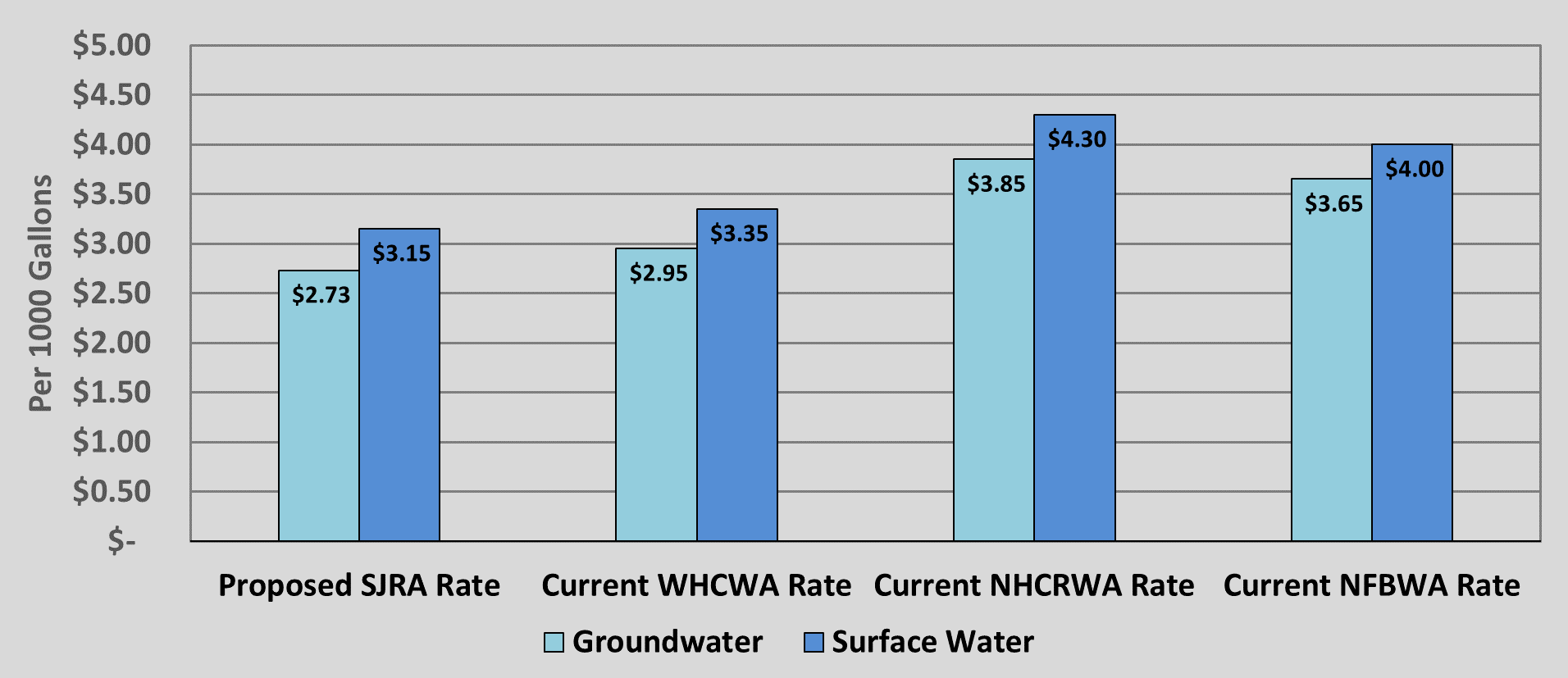 It is important for LSGCD to adopt rules to sustain our aquifers, prevent land subsidence, and plan for responsible growth in Montgomery County.  SJRA created the GRP partnership and designed its program to be a regional solution that would be open to any and all utilities in Montgomery County.  The $500 million price tag is not only for today's conservation but for the future of adequate water supply.  We must have responsible management of our aquifers to keep up with the growth of the region.
If you would like to know more about SJRA, what we do, and how we work for the community, check out our website www.SJRA.net and follow us on social media @SanJacintoRiverAuthority and @SJRA_1937.
Featured in August, 2019 Issue of Dock Line Magazine.