In the previous "Who Oversees Flood Control for Montgomery County?" blog posts, we noted there's not a single entity that is in charge of flood planning and flood management for all of Montgomery County.  Just as significant—there's no dedicated funding to pay for regional projects that benefit the county as a whole.
We also discussed how, throughout its existence, in addition to providing water supply and other similar services, the San Jacinto River Authority (SJRA) has engaged in planning efforts related to flooding; however, county-wide flood mitigation plans have not been realized for a number of reasons, including a lack of a dedicated funding source and no broad consensus to implement county-wide flood mitigation plans.
Voters had an opportunity to change the direction of flood management in Montgomery County when the creation of a Montgomery County Flood Control District was presented to them in the 1980s—voters did NOT approve the creation of a dedicated district.
A Montgomery County Flood Control District, created as a separate entity and funded with a sales tax, could have provided the funding support SJRA and other entities needed for the design and construction of flood mitigation facilities throughout the county.
In the absence of a separate, dedicated district, SJRA has provided watershed-focused planning in partnership with other local political entities who often do not have the authority or resources to implement plans on their own.  Although SJRA does not derive any revenue from taxes and must generate all revenue from fees for products and services, its focus on flood management planning has continued over the decades.
San Jacinto Upper Watershed Study
A San Jacinto Upper Watershed Drainage Improvement and Flood Control Planning Study developed in 1985 was the first study that focused on detailed evaluation of proposed alternatives and incorporated hydraulic modeling to evaluate their feasibility and flood risk reduction effectiveness.  The 1985 Planning Study proposed and evaluated several alternatives, both structural and non-structural including:
Total channelization
Selective channelization
Vegetation clearing
Bridge modifications
Property buyouts
Lake/reservoir creation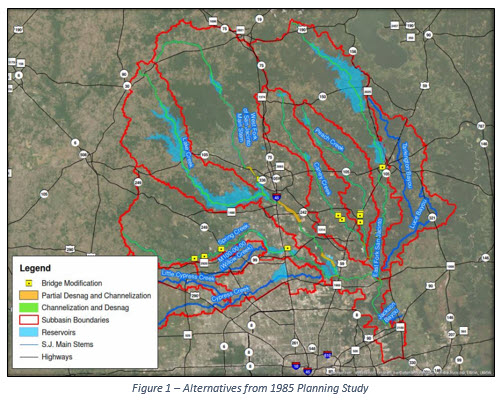 The report concluded that total channelization, bridge modification, and most vegetation clearing appeared to be less feasible based on benefit/cost ratios, and that property buyouts and reservoir construction appeared to be most cost effective.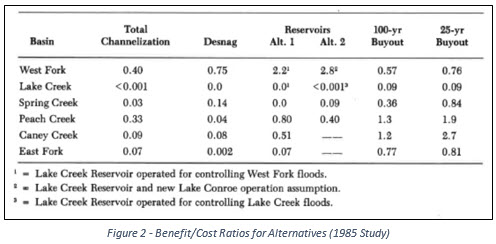 Bear Branch
Also in the 1980s, the Bear Brach Dam and Reservoir, including an uncontrolled spillway, was constructed northwest of Kuykendahl Road in The Woodlands.  Bear Branch Reservoir was constructed to provide storm water detention and irrigation for the areas along Bear Branch and Panther Branch, offsetting runoff associated with the future development of the area.  SJRA's Lake Conroe Division manages the Bear Branch Dam, Reservoir, and associated drainage system in partnership with five Municipal Utility Districts in The Woodlands, who fund any required maintenance, improvements, or other activities related to the system.  Its drainage system expands from FM 2978 and FM1488 to just east of Gosling Road.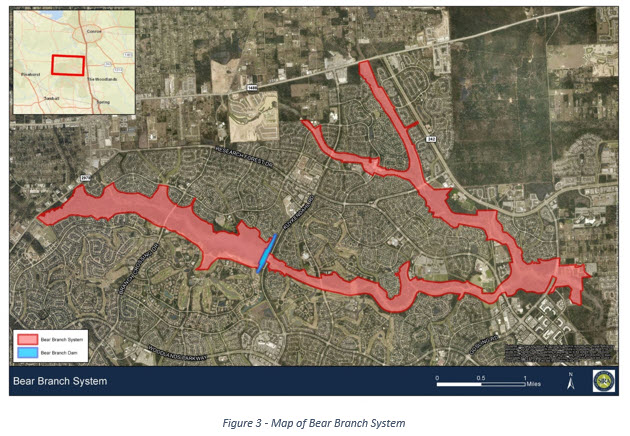 SJRA, in cooperation with the Bureau of Reclamation, studied the possibility of building an additional reservoir in the region on the lower portion of Lake Creek and developed a report in 1997.  The proposed reservoir would have been roughly 80% of the size of Lake Conroe.  The reservoir was proposed to increase surface water supply (approximate yield of 60% of Lake Conroe water supply), with no floodplain mitigation.  Plans for the reservoir were not further pursued due to a lack of federal and state funding and minimal interest in water sales from the proposed reservoir.
Flood Management Division
River authorities have historically not taken on flood management as most of them do not have taxing authority and do not have the funding to support flood management activities.  However, in March 2018, Texas Governor Greg Abbott directed SJRA to play a larger role in helping to identify regional solutions to flooding issues in the San Jacinto River basin.  The Board of Directors and leadership of SJRA embraced this charge and swiftly took action by asserting a flood management leadership role in the region and launching a new Flood Management Division in 2018.
Headquartered at the Lake Conroe Dam, the Flood Management Division's primary functions include: developing short-term and long-term regional flood management strategies within the Authority's jurisdictional portion of the San Jacinto River Basin; building partnerships with federal, state, and local government entities; identifying funding sources and opportunities; and coordinating, collaborating, and potentially partnering with other flood management entities throughout the entire San Jacinto River basin.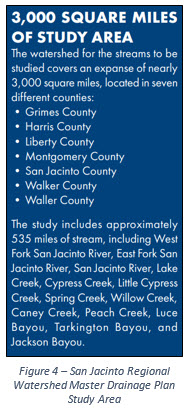 Since the creation of the new division, SJRA has become very active in coordinating with public entities and other stakeholders in the watershed, working towards providing region-wide flood mitigation solutions identifying projects and studies that will benefit the region, as well as determining funding sources for those projects.  Specific examples of efforts by the SJRA Flood Management Division include, but are not limited to:
Participating as a funding and technical partner in the San Jacinto Regional Watershed Master Drainage Plan project managed by the Harris County Flood Control District (HCFCD). This effort will identify future flood mitigation projects that can be implemented in the near- and long-term to reduce flood risks to people and property throughout the San Jacinto River watershed.  The project is scheduled to be completed in 2020.  For more information, visit the project website at www.sanjacstudy.org.
Working with a state elected official to prepare a bill for the 86th Texas Legislature that would allow the Authority and HCFCD to take a more active role in sedimentation management in the San Jacinto River basin. House Bill 1824 passed the legislature, and SJRA is now leading efforts to develop an associated project, in coordination with HCFCD.
Developing a reservoir forecasting tool that will assist in predicting peak release rates of storm water from Lake Conroe and the anticipated peak water level in Lake Conroe during rainfall events based on weather forecasts, observed rainfall, lake levels, and other data.  This will allow SJRA to improve its communications with Offices of Emergency Management and the general public during rainfall events.  This project is scheduled to be completed in 2020.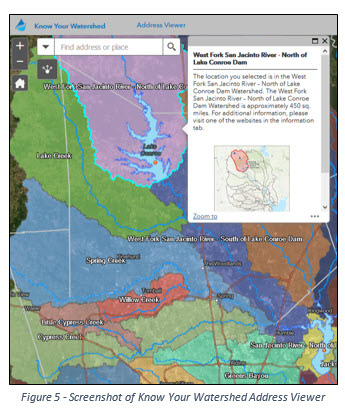 Developing an online "Know Your Watershed" campaign that will help provide the public with a better understanding of the watersheds they live in, as well as the sources of storm water (i.e. rivers/streams, upstream watersheds, etc.) for those watersheds. The first phase of the campaign, rolled out in September 2019, consisted of two tools: an address viewer, and an interactive story map that gives viewers an educational digital "tour" of the West Fork of the San Jacinto River. SJRA has since added and will continue to add additional content to the campaign.
Participating in Texas Water Development Board rulemaking processes related to disaster relief and preparedness bills—Senate Bill 7 and Senate Bill 8—passed in the 86th Texas Legislative Session.
Participating with Harris County, City of Houston, and HCFCD to develop a plan to establish an on-going sedimentation removal program in Lake Houston that will be funded initially by funds included in Senate Bill 500.
The implementation and construction of projects like those identified above will require funding from multiple sources, potentially including local, state, and federal agencies.  SJRA will continue to seek out opportunities to expand its involvement in regional flood management through continued coordination with local and regional partners, entities, and stakeholders; identification of funding for studies, projects, and other mitigation efforts; and execution of those efforts. For additional information on SJRA visit our website at www.sjra.net, like SJRA on Facebook @SanJacintoRiverAuthority, or follow us on Twitter @SJRA_1937.