Located in east Harris County, the San Jacinto River Authority's Highlands Division delivers raw (untreated) water from Lake Houston and the Trinity River through an extensive 27-mile system of canals and a 1,400-acre staging reservoir in order to provide water to customers such as Exxon Mobil, Chevron Phillips Chemical Company, and a number of other industrial, municipal, and agricultural customers.  The Highlands Division delivers more water each day than all of SJRA's other operating divisions combined.  Most people don't know the Highlands Division has been SJRA's principle enterprise since the 1940s.
The SJRA Highlands Division also works on many local projects to help the flow of water, such as canal clearing and siphon reconstructing.  Below are highlights from some of SJRA's operations in the Highlands.
Intrusions in the canal slow down the water flow, eventually creating blockages.  As part of the Technical Services Department Annual Field Investigations results and recommendations, the Highlands Operations & Maintenance staff performs a regular maintenance routine at Barret Station, removing motor vehicles, auto parts, and other debris from the Main Canal.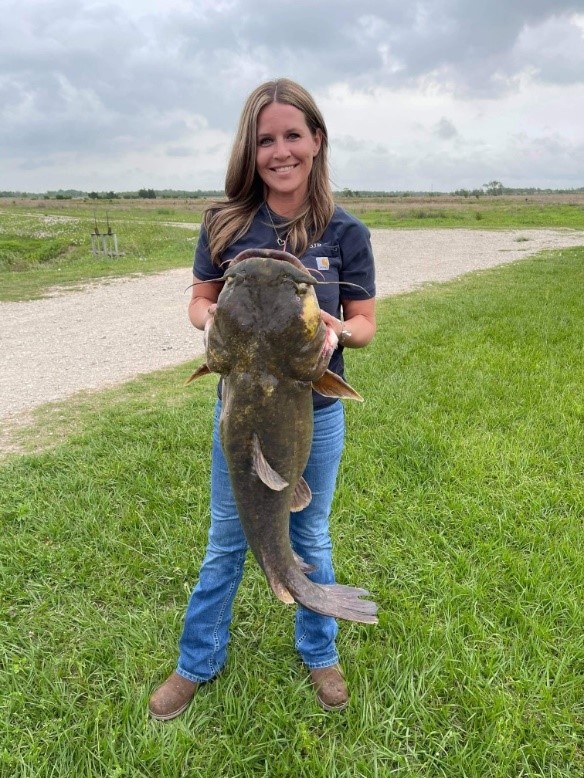 Highlands Operations & Maintenance Staff had to lower the water levels on the Highlands Canal in preparation for an upcoming project, trapping several large fish.  Staff and a few locals in the community worked hard to move the fish, like this 45lb catfish, to a deeper section of the canal.
The SJRA Technical Services Department, in conjunction with the Highlands Operations & Maintenance Staff, Risk Management Department, and SCADA Department, led a Siphon Inspection of Siphon 37 on Baker Road.  The Siphon Inspection Program intends to document the current conditions of the Division's siphons by checking for cracks, damages to joints and other parts of the structure. Staff also looks at preventive asset maintenance by inspecting the state of control gates and the proper functioning of actuators.
To learn more about SJRA's Highlands Division and its full history, please visit https://www.sjra.net/highlands/history/.  To learn more about the specific projects the Highlands Division works on, follow SJRA on Twitter @SJRA_1937, on Facebook @SanJacintoRiverAuthority, and Instagram @sanjacintoriverauthoritysjra.
Article featured in Dock Line Magazine.