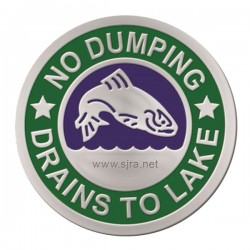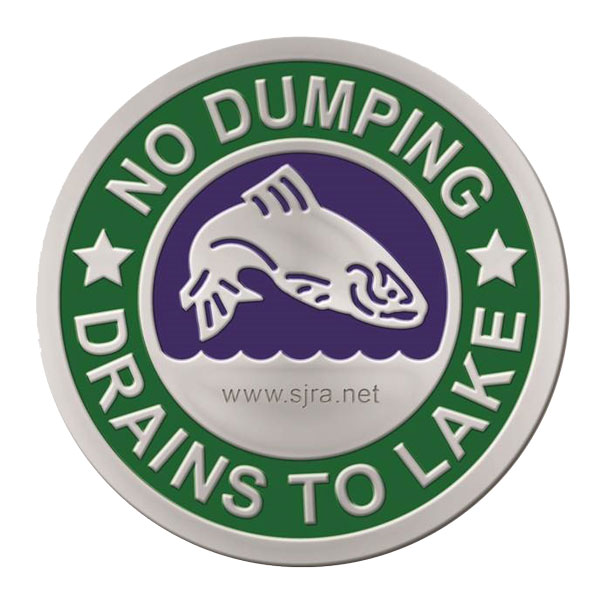 The Stormwater Inlet Marking (SwIM) Program is now underway for the Lake Conroe watershed.  This program was developed and has been used all across the nation to help educate the public about the effects of stormwater runoff from neighborhood streets and lawns on water quality.  The SJRA recently began this effort with a pilot program in three neighborhoods listed below by permanently affixing medallions to the top of stormwater inlets on streets that direct runoff into Lake Conroe.  As shown in the accompanying graphic, the medallions are made of aluminum with a green and blue color scheme and are four inches in circumference.  Our goal is to educate the local residents of each neighborhood that the stormwater runoff from their property and the streets is not treated in any way and eventually drains directly into Lake Conroe.  Fertilizers, pesticides, herbicides, and any other pollution from the streets, driveways, and lawns will eventually reach Lake Conroe and can create water quality problems for the reservoir.
| | |
| --- | --- |
| Neighborhood | # of Storm Water Inlets |
| Longmire on Lake Conroe | 22 (7586) |
| Waterford Estates | 9 (2925) |
| White Oak Ranch | 25 (6476) |
SJRA recently completed a comprehensive Watershed Protection Plan for the Lake Conroe watershed.  The plan focuses on monitoring the water quality in Lake Conroe, reducing problems from future growth and other activities in the watershed, as well as educating the public about water quality and how they can improve the already excellent water quality in Lake Conroe.  This SwIM pilot program will eventually be expanded to all neighborhoods within the Lake Conroe area and other areas of Montgomery County as well.  Community volunteers will be needed to install the medallions in each neighborhood.  If your community service group is interested, please contact SJRA at 936-588-3111
to learn more about this program and how your group can help.  All materials and training will be provided by SJRA.  Each volunteer team must have an adult sponsor to coordinate the activities of the team.  We welcome your support!